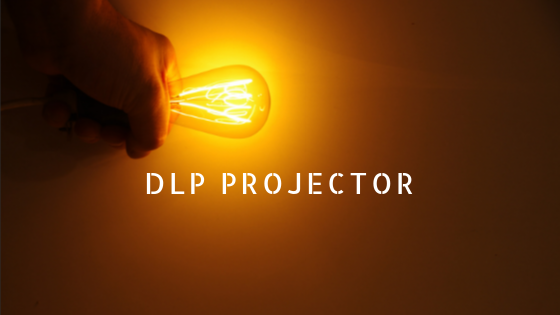 You have most likely used a DLP projector, whether you know it or not. In general, there are three types of projectors on the market today – LED, LCD, and DLP projectors. A portable DLP projector is no doubts one of the most advanced types of projectors out there now.
DLP projector
DLP is short for Digital Light Processing. The working principle of DLP is to convert image signals into optical signals by digital processing and projecting the visible-light onto a screen via the projection lens of the device.
The most important part of a DLP system is a tiny chip named the DMD (Digital Micro-mirror Device), which was invented by an American scientist – Larry Hornback in 1977. In the beginning, it was used for printing technology but later it was used with digital imaging technology. Seeing that DMD is very easy to provide 16,700,000 different colors and 256 gray-levels, so images are clear and realistic when they use DLP.
In regard to DLP projectors, they are the most advanced projectors presently. One of the advantages of DLP projectors is that they are able to project images on a screen much more clearly than a LED or LCD projector and the images via the processing of DLP technology are brighter and more realistic.
Display technology has advanced now to provide excellent visual effects to consumer electronic products. There is still a demand by consumers for companies to provide a higher quality visual experience. That is the reason why DLP technology arrived as the latest display technology.
Of course, the picture quality depends on the basic performance of the projector and the brightness of its lamp, but a DLP projector is easier to display satisfying picture quality than a LED or compact LCD projector with the same specification.
Uses of DLP projectors
Definitely DLP projectors are good enough for an individual, business, and/or instructional uses if you have a screen suitable for them. Also, most of them are not expensive for average consumers.
As technologies develop day by day, most DLP projectors have had some functions similar to the functions of smartphones or HD TV such as 3D mode, Android OS, WIFI, and 720 or 1080p input, etc. In short, the more advanced technologies are the more useful electronics would be – their evolution is obvious to us.
Nowadays most people like watching 3D movies or playing video games with a DLP projector. Honestly, their visual effects qualities are as good as watching movies at a cinema if you have a huge screen and a dim environment. Also, most of the projectors are compact enough to carry, which means you can use a projector to enjoy whatever you like whenever and wherever.
iCodis Recommends DLP Projectors
Vivid 818 | Gaming/Movie Portable Mini Projector for Big Screen
Pro-live T400 | 3800 Lumens HD Powerpoint Presentation Projector with Multiple Ports
Vivid 813 | Pro Portable HD DLP Projector with HDMI/USB/VGA Ports